Kinetic Sand 1KG
What is it?
Squishy Sand is no-mess sand that kids can use to make sand creations indoors. It can be used on any flat surface, including floors, and won't stick to kids' hands and clothing or any household objects. Each sand kit, which makes a great birthday gift, comes with a supply of non-toxic sand, and three plastic utensils: a roller, a scratching knife, and a shovel. Additionally, you can also use cookie cutters or any other plastic molds with the sand to create even more unique shapes. Squishy Sand is suitable for both boys and girls aged five and up.
How does it work?
Although it won't stick to anything else, Squishy Sand sticks together easily, allowing kids to play with it without making a mess. It is packable and shapeable, and can be easily sliced or broken into bits by hand or with a plastic utensil, so there are almost no limits to the objects or scenes that it can be used to create. Since it does not easily slip through the fingers, it won't leave even a trace of particles on your tables, floors, or anywhere else it is used. Plus, its ingredients ensure that it will never dry out.
How to use it:
1. Plop your blob of Squishy Sand down wherever you choose to use it, as it won't damage anything.
2. Use the roller, shovel, and plastic knife, plus your hands and any additional utensils or molds you have to cut and mold the sand into ships, forts, racing tracks, animals, or anything else you choose to create.
3. When you're finished, simply stick all the sand you've used back together, and store it in a container for later use.
Advantages:
*
Suitable for children of both genders, ages five and up
*
Encourages creativity
*
Designed for indoor use
*
Non-toxic
*
Doesn't make a mess of users or the location of use
*
Won't damage household objects
*
Sticks easily to itself and never dries out
*
Doesn't slip though fingers
*
Can be easily molded, stacked, and sliced
*
Each kit comes with a plastic roller, plastic knife, and plastic shovel
*
Able to use additional utensils of your own with the sand
*
Makes a good gift for a child
Why is it better than regular sand?
Regular sand must be played with outdoors, while Squishy Sand has been designed for use indoors, although you can take it outdoors if you like. It is often difficult to stack and pack regular sand without using water, but this sand can always be packed and stacked easily. Due to its ability to stick to itself, it won't slip through your fingers, leaving a messy trail, as regular sand often does. While children may get sick if they ingest the sand from an outdoor sandbox or beach, Squishy Sand is non-toxic, so it won't cause them any serious harm.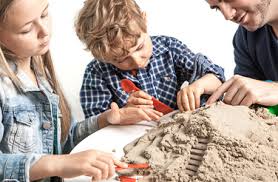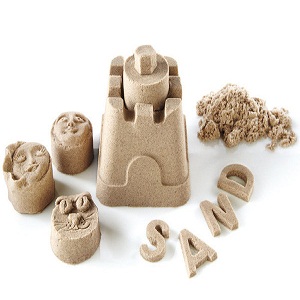 HARGA RM69.90